Post by DAVID on Jun 20, 2012 16:43:11 GMT -5
April 2000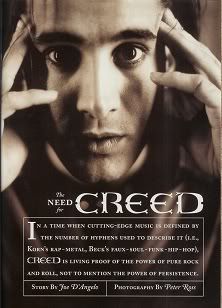 SMUG
The Need For Creed
In a time when cutting-edge music is defined by the number of hyphens used to describe it (i.e., Korn's rap-metal, Beck's faux-soul-funk-hip-hop), CREED is living proof of the power of pure rock and roll, not to mention the power of Persistence.
Scott Stapp likes things his way. It's not that he's a tyrant; he'll certainly take others' advice into consideration. It's just that Stapp knows his fans better than anyone else. Even the so-called "industry experts" who, since Creed's inception, have either knocked the band or tried to change it into something it's not. Pride and confidence demand Stapp and company call their own shots and the resulting multi-platinum success now allows them to continue doing things their way.
"It's our band, it's our music, it's our career, and we're trying to keep it in our control," Stapp says matter-of-factly. "that's been very important to us since the beginning."
So when the time comes to discuss possible video treatments for "Arms Wide Open," the third single from Creed's latest album Human Clay, Stapp says he'd rather not make one at all than agree to the suggestions of the label exec on the phone. He turns to guitarist Mark Tremonti and says insistently, "I don't want to make another 'MTV' video." Creed's words 'n' music duo are in a New York city studio adding a 12-piece string section to the song in question, "Arms Wide Open," which Stapp wrote about becoming a father (to 17-month-old Jagger) for the first time. "I'm making this video for me and my son. I want him to be able to see it in five years and be proud." Stapp and Tremonti privately discuss a few ideas before agreeing to work on their very first video treatment later that evening.
Meanwhile the orchestra has warmed up and is ready to go. For the next four hours they'll play the lush supplement dozens of times until it meets the approval of producer Ron St. Germaine as well as Tremonti and Stapp. The pair is directly involved with almost every facet of Creed, from its website to its T-shirt designs, and they insist on complete control in the studio.
"It's been that way since day one," Stapp says. "That's part of the reason we signed with [indie] label Wind-up Records. We do what we want to do creatively. We write songs, we pick the producer, and it's our record." If Stapp's creative demands seem a bit heavy-handed, past experience justifies it. He loosened his grip once, and the results fell somewhat short of expectations.
"For 'Higher' [Wind-up] wanted us to make an MTV-style video," Stapp explains, "And we fought and we fought and what we agreed upon is not what came out. A lot can happen in the editing room when you're not there. So we were pretty disappointed with that because it didn't truly represent our vision. But, you know, those things happen. Just like you don't try to write hit songs and you don't try to sell millions of records, you don't try to interpret your music and [make a] video specifically to please MTV or MuchMusic or VH1. The more we experience [these kinds of run-ins], the more we realize that we have to take control of that process and make sure everything is done the way we see it."
Taking matters into their own hands is something Creed's members have been doing since 1995, when Orlando schoolmates Stapp and Tremonti met in Tallahassee and formed a band with bassist Brian Marshall and drummer Scott Phillips. Holding down part-time jobs while attending college, each saved $30 per week for studio time and released 6000 copes of the debut album, My Own Prison, on their own Blue Collar label in 1997. In August of that year, the band signed with Wind-up Records, which afforded them little in terms of marketing and promotion for the album. Most of the burden rested on their shoulders. Luckily Stapp's belief in his songwriting enabled him to bear the load. "A lot of it was wishful thinking," he says. "I'd look these guys in the eye and say, 'I don't care what you think, we're gonna sell three million records and we're goin' to the top.' Then Mark started saying the same thing. Pretty soon we were making it happen."
Indeed. The Creed tour van - four musicians, a tour manager, and "two stoners who worked for us" - made routine visits to local radio stations across the country and offered acoustic on-air performances, tickets for that night's show, a free concert in the park, anything to get the songs on the air. For they truly believed that, given a chance, people would genuinely like their music. 'Like' was an understatement. It took some time, but soon phone lines at radio stations nationwide were lighting up with requests for Creed, and "What's This Life For" eventually became the most requested song on rock radio. The need for Creed didn't stop there. The songs "Torn," "One," and the albums title track also became hit singles, making the quadruple-platinum My Own Prison the only debut album in history to spawn four Number One Rock Radio singles.
Stapp attributes much of his success to his fans. "It means so much to me to know there's an army of Creed fans out there that care enough about the four of us and the music we make that they're on the phone 20 times a day calling their local radio station asking them to play Creed."
Countering charges of being a flash-in-the-pan fluke, the band's sophomore sequel was hardly the slumping effort naysayers hoped it would be. Debuting in September '99 at Number One on Billboard's Album Chart (beating out the heavily favored The Life of Chris Gaines by Garth Brooks and the Method Man/ Redman collaboration Blackout!) Human Clay has already sold more than three million copies and launched a pair of hits, "Higher" and "What If," with a third, "Arms Wide Open," already on the charts at press time.
Album sales aside the last three years have also sprung a string of laurels for the band. Thus far, Creed has played to more than two million people world-wide, and at Woodstock '99 had the honor of sharing the stage with former Doors guitarist Robbie Krieger, In January, "Higher" became the Number One song at both Active and Mainstream rock radio for a record 18 weeks. The group was tapped to choose the bands on the soundtrack for blockbuster Scream 3 and donated a track to the upcoming Doors tribute album, keeping company with artists ranging from Marilyn Manson and Smash Mouth to William S. Burroughs. Count three Billboard Music Awards and a performance at this year's American Music Awards, and there's not a whole lot this band hasn't done.
The only notch missing from the groups belt is the one thing almost every rocker dreams of: the cover of Rolling Stone. In fact, until now, almost any major magazine cover would've done. Despite record-breaking radio figures and multi-platinum album sales, Creed hasn't received nearly as much press coverage as some of its less successful peers. And what little coverage they have gotten has largely been negative.
"I can't lie and say that part of our rock and roll fantasy wasn't MTV, the cover of Rolling Stones the cover of Spin, and 10 million records," Stapp says, "I can't say that I don't want the entire world to read something about my band and my music, and I don't mind criticism. But direct attacks are what we've gotten for no reason. Sometimes we'd think, 'God, did we do something to piss this [writer] off?'"
Stapp feels he's been dumped on by much of the music press, claming misquotations and statements taken out of context have become the butt of many journalists' snappy one-liner. In response to his unfavorable media portrayal, he wrote the anti-press anthem "What If."
"That song is about revenge," he says, "I've had moments of anger after reading something [and I'd think] if I saw the guy who wrote it, I would knock his f*cking teeth in -and I could tell you I'd do it. I know that's irresponsible and immature and the wrong way to handle situations, so I focused it and channeled it into a song: 'What If.' What if eye for an eye? You won't say that sh*t to my face, but if you did, it would be a different scenario."
Despite the tough talk, Stapp's songwriting shows a much softer side of the scrappy frontman. Beneath weighty power chords, Creed songs bleed with heartfelt emotion, and considering the person behind the pen, they couldn't be written any other way. "I love strong, I care strong, everything about me is very deep," Stapp says, "I write from what I feel and from what I've gone through in everyday life."
Much of Stapp's early life was fraught with confusion and anger. For a free spirit such as himself, growing up in a very strict, fundamentalist Christian household was stifling. He eventually left his Orlando home and found some independence in Tallahassee, "
dealing with lack of freedom and an inability to make decisions for myself," He says of his adolescent angst. "Being forced how to think and what to believe. Then being turned away by a group of people whose whole essence of being is love and forgiveness. As soon as you make a mistake, they kick you to the curb. I began to see all the fallacies in religion, not necessarily spirituality and God, but [organized] religion. And I was bitter at the world. I felt as if I had been lied to all my life."

Writing songs came naturally, so he poured his heart into the one thing that listens unconditionally: a blank page. By baring his soul in verse, he was able to better manage his frustration. "These songs are like therapy for me and they help me deal with a lot of emotions," he says, "I've learned to take responsibility for my own actions. I've learned to deal with anger a lot better. Some of the things that I talk about it the songs, I'm still trying to make myself believe. I think some people misunderstood Human Clay's lyrics and thought I was speaking to the audience on a lot of songs, but really I was talking to myself. It's like I know the truth, but I can't get it through my thick skull. My songs are a way to teach myself to be a better person."

Success and widespread popularity are never without their side effects. For Creed, this means that the members aren't as close as they once were. "When we started the band, it was just the four of us, and we were a unit and a team and it was us against the world. Once the success came everyone kinda branched out and started their own lives, and that hurt me. I was like, 'What happened to the team?' It was almost a feeling of rejection. So with that in mind, it's made me start to push them away. And sometimes I come across a little intense and condescending. I don't mean to be that way, it's just that I'm so focused."

Though Creed has gone from a group of friends jamming in a basement to a full-time-business venture with Stapp acting as CEO of five Creed-related companies, the members haven't forgotten that they're living out their dreams every day. "This is the best thing that's ever happened to me," Stapp says, "And the same probably goes for Mark and the rest of the band. We've had to sit down and check ourselves and say, we need to quit bitching and look at all of our accomplishments and just enjoy it. Enjoy our families, enjoy our friends, enjoy the music and just have a good time. And that's basically where we're at. We're not a complain-all-the-time band. We're happy with the way things are going."