Post by MIKE on Jun 19, 2012 20:26:23 GMT -5
2/1999

Kerrang Magazine
Radio Friendly Unit Shifters
In 1997, four young men from Florida recorded their debut album for mere $6,000 and released it on their own label. They were dismissed as a poor-man's grunge band. Three million sales of 'My Own Prison' later, CREED are having the last laugh...
If grunge is dead, nobody told Creed. Or the three million Americans who've bought their debut album, 'My Own Prison'. Amazingly, while Marilyn Manson's 'Mechanical Animals' has as yet failed to sell a million units despite all the hype and headlines that money can buy, Creed have come from nowhere to out-gun every single rock band in America - and that includes Korn, Metallica, Hole, Pearl Jam and Green Day.
Not bad for four unassuming blokes in their early 20s from the unfashionable town of Tallahassee. Not bad either for an album which was recorded for a mere $6,000. And as Creed's beardy bassist Brian Marshall notes with a sly grin: That six grand included the price of pressing 2,500 albums!".
Creed's tale - self-belief plus self help equals lottery sized pay-off - is the classic all-American success story. It's a story which began seven years ago when self-styled 'intellectual jock' Scott Stapp met soccer-mad metalhead Mark Tremonti..."We knew each other at high school but we weren't friends," Stapp confesses. Tremonti, seated to Stapp's right on a squishy sofa in a London photo studio, nods his assent. This is Creed's interview pattern: Stapp, the singer, talks and the others nod, mumble and fidget.
Stapp and guitarist Tremonti are Creed's creative nucleus. By early '95 the pair had hooked up with Marshall and drummer Scott Phillips, and within two years Creed were local heroes. To capitalize on the buzz they'd created in Tallahassee, the foursome set up their own indie record label, Wind-Up, to release My Own Prison'.
"It was a high quality demo," Stapp explains. The producer was very good and got the most out of the limited equipment we had. We sold 5,000 copies in two months. At a small level we showed that this band could be successful. By using our own initiative we proved that there was a market for what we were doing, although no one knew that the market would be as big as three million!"
Inevitably, a major label feeding frenzy ensued. Epic won out. The album was remixed by Ron St. Germain (Tool, Soundgarden) and was soon doing brisk business from New York to,er, Seattle.
"We've always been very confident, almost in a naive sense," Stapp says. We felt that we were going to be a successful rock band so long as people could hear us. We thought we were different, that we had something special. We had a lot to say that wasn't being said at the time.
"Rock music had become very blase and had no meaning, whereas we were full of meaning. And amid our friends, that's what people were hungry for: music that actually made them feel and think, that had passion and emotion. They said rock 'n roll was dead, but it obviously wasn't and isn't. Essentially, we're an American rock 'n roll band."
True, but rather vague. Aerosmith are and American rock 'n roll band. Specifically, Creed are a grunge band. Alice in Chains plus Pearl Jam equals Creed. Canute-like, the band disagree. Creed, it appears, are in grunge denial.
"Grunge died when Kurt Cobain died and Creed's a rock band," Stapp argues. A lot of people are confused about what grunge was. Pearl Jam, Soundgarden, Alice In Chains got thrown into the grunge category when they're not grunge bands, they're rock bands. Nirvana was really the only true grunge band."
What a load of bollocks. Sure as Bill Clinton likes nosh, Pearl Jam and Alice in Chains are grunge bands and so are Creed. The real issue is, are Creed a good grunge band? Three million Yanks say yes.
"Three million records doesn't sound like such a big deal", Stapp shrugs, because just about every band we grew up liking was a huge rock band - like Led Zeppelin, The Who, U2 and Metallica. That's what we wanted to be, and we don't feel like we're there yet."
Creed are nevertheless the biggest rock band in America right now. Apparently they told a cabbie as much on their arrival in London!
"It's a fulfillment of our dreams," Stapp glows. We had expectations of being successful and we've achieved that. We've accomplished some goals. Now let's make another album, and make it solid and do it all over again."
"We're very goal oriented," he declares, full of uniquely American self-awareness and ambition. We don't sit around and relish every moment of success. We've a lot we want to accomplish together. Every once in a while the feeling will come over you. You're like 'Damn, this is so awesome!', but the general vibe is we've got to keep moving. It's probably all to big to comprehend."
There are of course some tangible rewards of Creed's success. The Porsche that Mark bought last month, for example, and Brian's new Corvette. But as the Rolling Stones remarked, you can't always get what you want - and Scott Stapp really, really wants a little respect from the music industry.
Stapp's frustration surfaces when he speaks of Creed's forthcoming US summer tour with fellow nouveau-grunge starlets Fuel 238 and Days of the New.
"We're all fresh up-and-coming bands who I think are going to be around a while," he says. I really feel like it's going to be an 'I told you so' thing."
Suddenly his face darkens to a scowl. You know, we really aren't getting much respect for what we've accomplished. We've sold two million records and Conan O'Brien didn't want us to play on his show. I guess we're boring to the media because it's all about the music with us. We write songs. We don't trash hotel rooms, and we're not shooting up heroin and getting arrested."
With the lack of media attention, at first we thought, 'This sucks - we're huge and we're not getting anything'. But we have three million fans who like us on the strength of our songs. It's not like we have a million 13-year old girls who like us because a photographer can make us look cute in a picture."
Despite these protestations, Stapp is rock's new poster boy; clear-eyed floppy-haired and... newly-married. But like the man says, Creed are currently the biggest noise in rock because they have songs that connect with people.
"A lot of this album is based on things that happened in my life," Stapp opines. Not actual experiences, but things I was thinking about - the inner demons and struggles that I was dealing with personally."
"'My Own Prison' is the most meaningful song to me. It was a turning point in my life when I wrote that song. When I read that song back it really spoke to me: take some responsibility for your life, don't blame other people when things go badly, move forward. When I did that, it totally changed my outlook on life. And it's ironic that that song was basically the one that started it all off for us."
"I think that's why we've become so successful. People can relate to these songs. That's the key."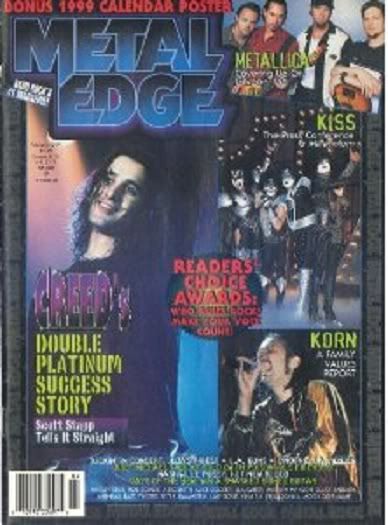 Metal Edge


Frontman Scott Stapp Inside the Success of My Own Prison
As an indie band on an indie label, Creed began the old-fashioned way -inoffensive and subtle, suggestive and inspiring, and providing a moment of clarity in a world of confusion. Creed's music opened a window into the lives of music fans not fixated with death, doom and destruction; fans who wanted songs that mirrored their lives, not the lives that would be outgrown with the passing tides of teen-angst and rebellion. But such is the current state of affairs in America, where everywhere we turn we see the same names, the same faces, and the same hype... And in the middle of it all, quietly selling more than two million records without fanfare or controversy, are Creed. As frontman Scott Stapp revealed in a recent interview, they wouldn't want it any other way.
P: Has the tour been going as well as your sold out shows indicate?
S: It's awesome. Couldn't ask for anything better on our first record. Right now, we've created around us the exact thing we wanted and always dreamed that rock 'n' roll should be - get the competitive bullshit away from you and just come together as a unit and share musical ideas and sit around and jam until 4 AM after your show, drinking beer and hanging out. Who cares how many records you sell? You're given an opportunity by a record company, for at least a short time period, to live your dream, so why not enjoy it? That's what we want to do. No matter what happens, if this all ends tomorrow or in two years, we've had a f.ckin' good time and it will be something we remember for the rest of our lives. And that's the way you've got to think about it in this business.
P: It must be easier to say that knowing you've got a double platinum record hanging on your wall.
S: I said that from the beginning. We made this record so that we could let our kids say, "This is what daddy did in college." You can ask me that very fairly and you can get away with it, but people who know me and have been around me know that I've said that all along, since day one. But of course it is easier now. I'm human, man. Of course it's easier for me to say that after selling two million records. Definitely, now I don't have to worry about it anymore. Being a leader, sometimes you have to be strong and not let people see your weaknesses, see that you're scared, see that you're nervous. So I'll make statements like I just said. Like it doesn't matter. "Let's just enjoy this." And I'll say that to try to keep everyone around me strong, and motivated. But then I'll go to bed at night and be like, "Damn, I'm f.ckin' scared." And that's just human nature. That's just how we are. When you understand that, it gives you so much freedom... It's OK to be scared. It's OK to feel weak sometimes. As long as you're moving forward and you're trying to be strong, you make other people around you strong. It's much easier when there's more strong people than when there's one strong person, because when you're down someone else can pick you up.
P: That's a lot more maturity than most people are used to reading in interviews, yet you're young compared to most successful musicians. Where does the wisdom come from?
S: I've just been through a lot real fast in my life. I left home at 17. I had to learn a lot of lessons the hard way. I left home thinking that everyone I met had my best intentions in mind, because that's how I was raised. Everyone in my family surrounded me with love, they wanted the best for Scott. But when I left home at 17, I quickly learned that everyone was out for themselves. At least the people that I had run into. And I spent a lot of time alone. I spent a lot of time reading and asking the powers that be for wisdom. I just wanted to understand what was going on and I was on this search to find myself and to understand people. All I did was ask and search, and the answers came to me. I may have had to learn lessons the hard way, I may have been ripped off, I may have had things stolen from me and lost some friends along the way, but whatever's happened to me in my life, you have to learn from every experience and you can't forget. I still learn everyday and I still catch myself going, "Remember what happened last time?" It's like keeping a mental journal. Basically, I just went to the school of hard knocks. I learned a lot of lessons the hard way. A lot of times, as a kid, you don't realize why you have electricity and why you have cable and why your phone works. I left home thinking that just came with the house. I'm in a car eating baked beans out of a can going, "How the hell did I get here?" I learned everything myself, being self-analytical and introspective gives you wisdom when you have a lot of time to yourself. When you're stripped down to nothing and you have nothing in this world clouding your mind - when you're living in a car wondering where you're gonna get a shower and not having any money to eat, you're stripped down - you're at a low point. It's like a horse having those blinders on the side of their eyes. All they can see is forward and when you're at a low point in your life, that's all you can see. "How the hell am I gonna get out of this? What do I need to do?" And you start looking forward and things just start coming a lot clearer. That's what happened.
P: You said you had a good home environment. Why'd you leave?
S: I said they cared about me. A lot of parents care about their kids but their environment isn't good. It isn't comfortable for the child because they know their dad can come in their room and beat their ass, give them a black eye, and say he does it because he cares about them. There are a lot of things that can go on in a caring situation, so to speak. My parents were very, very religious, and I respect their convictions and I understand why people of that nature do what they do. I compare it sometimes to alcohol. They go to Alcoholics Anonymous for support because they need help to get through their life. I compare that to religion right now in the sense that some people are involved in religion because they need some kind of support because they're not strong enough to make it through life alone. So they need help. I think it's a wonderful thing, I just didn't like the whole deal. I didn't like the whole, "You've got to go to church, you've got to do this, you can't do that." They would tell me contradictions. My father would come in and say, "You need to have a personal relationship with God," and I'd think that was OK. Then my dad would say, "I just don't think you're a good Christian." I'd be like, "How do you know? I'm the one who's got to have the relationship with God, not you. You told me it was a personal relationship, and personal means it's mine." I had all these blaring contradictions in my face and I couldn't handle it anymore. I couldn't handle the pressure of what they were putting on me and the fact that I wasn't being listened to. I read the Bible like four times and I was not understanding it like they were telling me. This book tells me that I have freedom regarding what I can do, this book doesn't tell me that I have to be tied down and everything I can't do. It made me sad... It still makes me sad that thousands of people go to church on Sunday and listen to some guy telling them what the book says. They listen to some guy telling them what they should do with God. You've got to find out for yourself. If you want that relationship, go find it for yourself. It just drove me away and I did the typical runaway thing: I crawled out my window, got in my car, rolled it down my driveway, pushed it down the street so I wouldn't wake anybody up, went to my buddy's house and never came home.
P: Have you been in touch since then?
S:Yeah, I have. We went though a three-year period where there was relatively no communication, maybe once a year. Or I would talk to my mother. Now we're at a point where we're friends. We've reconciled, so to speak, but it's never gonna be quite like a normal family. I'm married now and I've got a child on the way and I want him to have grandparents. My parents have learned a lot over the past seven years. We've kind of grown together and given each other a better understanding, so the relationship's much better and it's gonna get better as I get older. As you get older, a lot of times you'll realize that the shit your parents might have told you about life when you were little is right, but you don't want to admit it because you have too much respect for yourself.
P: I think that happens to a lot of us. If we're lucky, we can overcome it.
S:That kind of stuff starts happening to you as you get older. Not specifically how they are with religion, but with other things my parents taught me in life. I find myself going, "My dad was right about this. I'm never gonna tell him, but he was right about this." As I get older, my heart gets a little softer and my mother's heart gets a little softer. It's just like how grandparents spoil the hell out of their grandkids, as you get older, your heart gets a little softer and you're not so hard anymore... Some people might go in the completely opposite direction, but hopefully your heart gets softer. That's kind of what happened in my family, we're leaning toward the idea that it's better to love each other than to hate each other.
P: How'd you meet your wife?
S:Mark [Tremonti, Creed's guitarist] and his girlfriend introduced me to her one night. She had no idea about the band- she was into country music, which is kind of weird- and I was like, "So when are we going out?" That was the first thing I said to her- everything was starting to pick up for us a little bit, so I thought I was a hot shot at the time and was getting a little cocky- she just walked off. Eventually, after bugging her a little bit, we went out and we hit it off. She still doesn't like my music too much, but she loves me and she likes a couple of songs. She's a sweetheart. I need to be with a woman that tells me to F.ck off every now and then. I don't need a woman that just rolls over and does whatever I want.
P: I can see where your ego might have grown a little. You guys literally came out of nowhere, and a year later had sold two million records.
S:That's pretty much how it happened, we're as baffled as everybody else is. We're not gonna complain, but we're like, "How the hell did this happen? What's going on?" Before we got a record deal we had our own record company the band established called Blue Collar Records. Of course, we were the first release on that label. We just needed to throw something on the CD so it would look professional and we could take it to the radio stations and try to get them to play it. They did, and it just started blowing up there. I remember the programming director at 101.5, here in Tallahassee, FL called me up, and I don't even know this guy or how he got my home phone number. He calls me up and he goes, "Will you please tell your friends to quit calling the radio station requesting 'My Own Prison,' because it's getting ridiculous." We hadn't told any friends to call the radio station. We sold like 6,000 CDs in two months locally. All the stores around town were calling us up and saying they needed more, and we're like, "Shit, this is serious!" Then some record companies started calling, and they were calling the record stores. The next thing you know we had a record deal and a year later here we are. The album's been out since August 29th, 1997.
P: What were your thoughts going to Wind-Up, an independent label? Did you think you'd get any exposure? .
S: We weren't sure. We were just happy to get a record deal and have someone that had faith in us, and we were happy to get to tour. Our main thing at the time was that all we wanted to do was go out on the road and play. Now I'm like, "God damn, I wish I wouldn't have said that!" (laughing) That was the big deal for us. We didn't really care at the time if we got on the radio stations. We just wanted someone who would lease us a van and help buy a trailer and set up a bunch of shows so we could tour, because we had never played out of Tallahassee before this record deal... I think we did one show in Gainesville, FL and that was it. I think that was as far as we drove and that's only like an hour away.
P: How long has Creed been together?
S: About three years. Mark and I met while we were in college. The band thing was something that we did for fun on weekends, and me and Mark would play acoustic at parties for our buddies to try and meet girls.
P: Were you writing your own music?
S: Yeah, original songs. We had played some covers when we started playing the local bar scene because they wanted us to play for four hours. That's what you're supposed to do. We didn't know. This is our first band. We had no idea what we were doing. We were like, "Screw this cover shit." Every week we decided we were gonna replace a cover with an original and in about a month we had 20 or 25 originals. Writing 25 songs in a month means a lot of them suck, but we didn't care, we were just trying to have fun, meet girls, and hang out... And what do you know, all this happens. I think when people started coming up to us after the shows going, "Damn, you guys are good," I think after some of that happened we all of a sudden got serious. It went from doing this for fun to "If you're late for band practice we're charging you $20." The attitude completely shifted.
P: Were you treating the band like a business at that point?
S: No. Not initially. All our money was spent on our beer tab. We didn't have any money. Later on, when we finally got serious, we were like, "OK, we need to make a CD and we need to save up some money." We were all working, and it was $30 an hour for studio time, so every week everyone in the band would set aside $30. That would be $120 and would give us four hours of studio time. Every week we'd each give him $30 so we could have studio time. That's when we started getting serious about the band. When we got our first recording back- I think it was of a song called "Blister," which isn't even on the CD- we were like, "Holy shit, we need to take this seriously!" We liked it. We surprised ourselves. Playing in shitty clubs, not ever hearing ourselves in the front of the house, and having a shitty monitor rig, we didn't even know what we sounded like together.
P: Has it been the four of you since the start?
S: Yeah. We had another guitar player that said it was all good fun but he had to get serious with his life. He wants to be back in the band now. A million records later he's calling me every day and going, "Please let me play!" It worked out good, though, because we kind of wanted him to leave, he was just soloing over everything. He would solo from the first drum beat to the last drum beat.
P: And Mark stepped up?
S: He's just a better guitar player and a better songwriter. A lot of people can solo. A lot of people can wail on the guitar, but not a lot of people can write songs. Mark is very, very talented and gifted at putting guitar progressions together that make sense and are perfect for vocals. He makes my job so easy by giving me the music that he gives me. He writes all the music and gives me a tape and says, "Here, put some vocals over this." And I always get it. I get so excited about it because I love what he does. Then he calls me up after I give him a tape back. We're both feeding off of each other. We both love what one another does and it's a wonderful relationship to have. We bounce off each other, and it's a very open writing relationship. All we want is to write good songs. We don't care who does it. Whatever it takes to write good songs that the whole band loves and gets excited about, that's what we want to do.
P: What were your influences?
S: We go from Celtic Frost, Black Flag, Sepultura, Pantera, to classical jazz and everything in between. None of us were really into alternative music. We're all into either real heavy, heavy rock or classic rock. We weren't into the alternative scene at all. Mark is extremely into heavy metal and heavy rock guitar bands. He's really into some stuff that I can't appreciate 'cause the singer has to be able to sing, no matter how bad the music is. Mark loves that music. And Brian [Marshall], our bass player, is a lot like me. He's into classic rock, like Zeppelin, Lynyrd Skynyrd, the Eagles, Eric Clapton, Bad Company, and Cream... Brian's favorite band of all time is Iron Maiden. Our drummer was really into R&B and jazz growing up. Three or four years ago he got into classic rock- Zeppelin, Pink Floyd-he's our most rounded listener. He listens to everything from pop rock to what Mark listens to, and it varies weekly.
P: But no alternative?
S: I can't handle the alternative music because I don't hear any feeling in it. For me to really get excited about and really get into a band, something has to make me think some form of passion is in the music. A lot of alternative music, to me, seems like someone is trying to write a jingle. I don't hear any passion or motivation. Maybe because I grew up listening to gospel music in the church and a lot of Southern Baptist and soul, and I think I'm used to hearing those vocal purists. The people that can really sing, not singers who just have a unique voice and if they didn't sing rock you'd think that their voice sucked. I'm really into people that really have a talent. A lot of these alternative bands, to me, they're good at what they do, but you put them in front of 5,000 people and have them sing the National Anthem, you'd see that they can't f.ckin' sing to save their life. That's what separates my taste from the other guys'. The other guys in the band are much more well rounded. They're more open-minded. Sometimes I don't even like myself, I'm so judgmental about what I listen to.
P: You're getting a lot of comparisons to Pearl Jam. Does that bother you?
S: At least they're not comparing us to some band that sucks. Fortunately, we're getting comparisons to a band that is going to be a rock legend. You can't complain about that. I think what makes us very similar to them on their first album is the passion. The songs are different, but when that band came on the block, they had a lot of energy and a lot of emotion and I think people are seeing that passion. They're seeing the energy and the emotion. They're seeing that we do give a damn about what we're doing, and we're not up there trying to make a mockery of the people who come to see us. At our shows we're giving our fans every bit of energy-everything we have, whether we're sick or not-because we care about what we're doing. I think that's what Pearl Jam did. I can't tell you that for sure, because I never got to see them, but that's what I hear. Passion breeds followers. I've always said that. When we first got together as a band, I knew that if you're passionate about something people will pay attention to you. I was aware that my passion was contagious. And I think [Eddie] Vedder's passion was contagious. And I think he inspired a lot of people in this world to get passionate about something. I think that's what we're trying to do, and I think people can see that and kind of tie us together on that point. Musically, we're much different. Vocally there's got to be some comparison, but Pearl Jam's what Pearl Jam is. Hopefully Creed can become what Creed is and what Creed wants to be and we can all live in this rock world together.
P: You mentioned meeting Mark in college...
S: Mark, Brian and me were all at Florida State University. Mark and I were in high school together, but different circles of friends. It was that, "Hey, what's up man?" kind of relationship.
P: Did you graduate?
S: Marshall graduated. Scott's a junior, Mark's a junior and I'm six hours away from graduation, two classes. I'll finish whenever I get a chance to. Marshall was in interior design, Mark and Phillips were in business and I was in communications and English. I was planning on law school. I didn't know what I was gonna do, I was gonna figure it out after I went to law school. Seeing those big courtroom dissertations impressed me. I wanted to do that. I wanted to stand in front of the courtroom and talk and do the whole thing that probably really isn't how the courtroom actually is. I wanted to be some kind of person that could make a difference. I was getting frustrated the farther I got along in school because I realized I'd probably wind up being an ambulance chaser.
P: It's a bit ironic, because you really seem to connect with your fans. You're making a difference now.
S: That's another reason I got so motivated to do this, because I could make a lot of statements through my songs. I could do a lot of things and I could put myself in a position where I could make a difference. Fortunately, by the success of the band, it's starting to happen that way. It's everything I wanted. I keep waiting for someone to pinch me and say, "Wake up Scott, this is all gonna not be real," because right now my dreams are coming true and I feel so fortunate. I've moved forward, and there are so many people, even my family and my friends, that have stayed the same and right now we can't really communicate because there's a wall between us. This is my dream come true, and it's everything that you ever dream about, when you're a kid wanting to be in a rock band. It's everything that you dream about and more. And I get so tired of all these guys in rock bands bitching and whining and being stupid when they should thank God everyday that they have a chance to do what they do and do what they love. It's awesome man. I'm on a permanent high right now. It's great.
P: So it's really important to you to have meaningful songs?
S: Yeah, definitely. "What's This Life For" is a song that Mark and me collaborated on. One of his friends committed suicide and one of my friends committed suicide-two different people-and we kind of collaborated on that song based on those experiences, trying to figure out why and trying to make a cry out to other people not to do it. Find out what your life is before you go blowing your f.ckin' head off. Sometimes it takes certain people longer than other people, it's a matter of time. That was kind of our attempt to maybe protect ourselves from ever having to deal with that kind of pain again. At least amongst our group of friends. Then we got a record deal and it became national, so hopefully now we can help someone else. It sucks to lose a close friend because of something stupid like suicide, especially when they could have just come to you and you could have helped them through it and you could have shared that strengthening and that growth process together. That song means a lot to us as a band. The messages in our songs are more than just about me, or Scott, or Brian. It's about a whole group of people and a whole event that happens every six minutes in this country. I think it's that often that someone kills himself, especially a young person. What if that person came out of their situation to be the next John F. Kennedy or Martin Luther King? It's that kind of mentality you have to have with these people. They need to understand that they can make a difference. Man... I was living in my f.ckin' car three years ago thinking of blowing my head off. Now, all of a sudden I'm in a band and we just sold two million records. That can happen. I guarantee you that there are people that killed themselves that could have been in the same situation as me if they just would have made it through and found out what their life was for. That song means a lot to this band and it means a lot about what we are and what we're trying to do. We're a band that has something to say and we've got a lot of themes and a lot of messages beyond sex, drugs and rock 'n' roll. It's much deeper than that. I know it's not always fun to hear some of the things we talk about, but we're gonna fill a void. You're gonna have your fun music when you feel like partying-maybe you don't even hear the words and you just like the music-but we're gonna keep saying it as loud as we can. Now we've got a huge platform. I only hope we can use that for some good.
P: Do you think you've evolved a lot as a band?
S: We've all become much better musicians, I'm a much better singer than I was at the beginning of this tour, and as songwriters we're constantly moving forward. This is all new to us, it's the first band I've ever been in and these are the first 10 songs I've ever recorded in my life. So we're all kind of babies. My Own Prison is an album of us learning how to write songs. Our next album is going to be, "OK, we know how to write songs. Here's our first attempt thinking we know how to write songs." The third album will be our third attempt knowing we know how to write songs... Hopefully we'll just keep moving forward. I think every band gets to the point where it's like, "OK, you need to go away." Hopefully Creed can put out
really solid, good albums then go away. Who wants to hear a f.ckin' Stones record now? "OK guys, go away." Like Van Halen, too. I've loved them in the past, but now I can't say that. It's about time for those guys to call it quits. Hopefully, I'd like to be like [Michael] Jordan in a sense. This is a pretty bold statement, but I want to be to rock 'n' roll what Jordan is to basketball. I want to be consistent, and I want people to know that every time they buy a Creed record it's gonna be a good one from the first song to the last song. Then, when it's my time to go, I want to leave when I'm on top. I never want to have to bail because I suck. I want my final album to go multi-platinum and then say, "Hey, the bands done six albums, we're done. Later." I want to be able to say that we've given everything we can to make our last record the best we can, and then go on to something else.

P: Do you think that's very realistic, to go out like that?

S: It's easy for me to say that because I've watched all these bands that I've liked as a child develop, so I got to see how it works. If I can use that to my advantage, and learn from what's going on around me and always be aware, then that's what I'd like to do. If not, hey, I gave it my best shot.